About Angela
Angela M. Povolish was raised in Murphysboro, Illinois, and has resided in Southern Illinois the greater part of her life. She attended Elmira College, in Elmira, New York, for her undergraduate education where she graduated summa cum laude in 1998, receiving a Bachelor of Arts degree in Political Science with a minor degree in Biology. After graduation, Ms. Povolish returned to Illinois. She earned both a Master of Arts degree and a Ph.D in Political Science from Southern Illinois University-Carbondale. In 2005, Ms. Povolish received her juris doctorate from Washington University School of Law in St. Louis. Before beginning her legal career, she taught as a cross-discipline instructor at Southern Illinois University- Carbondale in Political Science and Administration of Justice.
Attorney Povolish joined Feirich/Mager/Green/Ryan in 2007 as an associate and became a junior member in 2016. She accepted full membership as a senior partner with the firm in January 2020. She maintains her legal practice in the areas of real estate, real estate litigation, trusts and estates, general estate planning, business formation, probate and guardianship.
Ms. Povolish has earned an AV Preeminent rating from Martindale-Hubbell, has been peer selected by Leading Lawyers, is a member of the American Bar Association, and a member of the Illinois State Bar Association. She has served on the executive boards of both the Jackson County Bar Association and the Southern Illinois Inn of Court, and remains active in both organizations. She is a certified mediator and guardian ad litem in the First Judicial Circuit.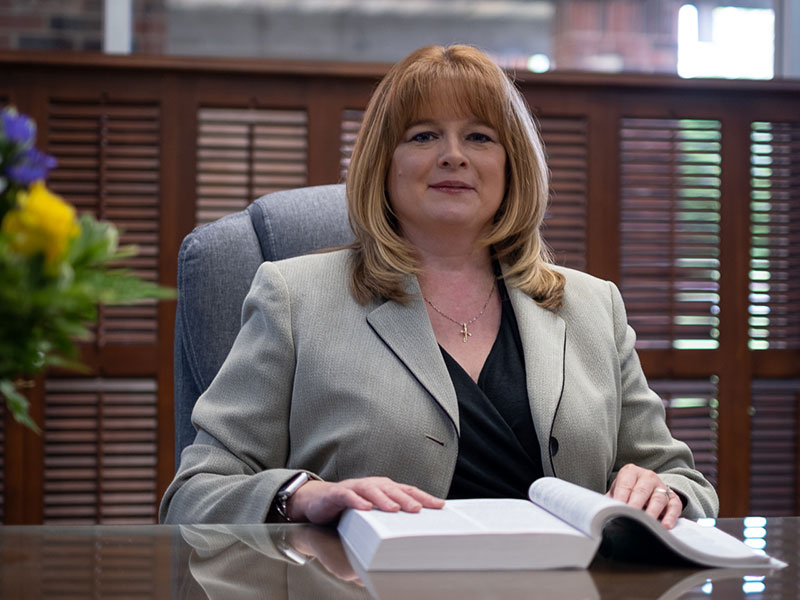 Ms. Povolish believes in maintaining an active role in the local community through volunteering and community service. After serving seven years on the Carbondale Chamber Board of Directors, she remains involved with associated committees in the area and continues to volunteer time in support of community organizations and local businesses.
Angela resides in Makanda, Illinois with her husband, Aaron Webb, and their children, Colby and Joshua.