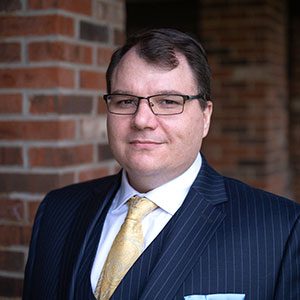 Primary areas of practice:
About Bentley
Bentley J. Bender was born in Saint Louis, Missouri in 1979. He received his Bachelor of Arts with honors in Political Science and Psychology from Tulane University in New Orleans. Subsequently, Bentley attended Washington University School of Law in Saint Louis, receiving his Juris Doctorate in 2004. While attending Washington University, Bentley received the Phillip Gallop Award, CALI Award for Academic Excellence and was named to the Dean's List. Bentley completed his Master of Laws in Taxation at Washington University in 2007 following an internship at Sandberg Phoenix & Von Gontard in their Trusts and Estates practice group.
A member of Mensa, Bentley practiced with the bankruptcy law firm of Macey & Aleman in St. Louis and The Sharp Law Firm in Mount Vernon before joining Feirich/Mager/Green/Ryan. Bentley engaged in a diverse practice covering trust litigation, tax and estate planning, bankruptcy, creditor's rights, commercial litigation, business law and transactions. Bentley's litigation efforts on behalf of his clients have resulted in several reported decisions and presented him with the opportunity to practice before the Seventh Circuit Court of Appeals. A scholar of the law, Bentley co-authored an article for the Illinois Institute for Continuing Legal Education delving into the complexities of Chapter 12 bankruptcy.
With his graduate degree in taxation and experience, Bentley brings to the firm an increased capability to serve clients with tax and estate planning concerns, and to counsel clients in areas where tax ramifications may be significant. His other areas of practice include transactions, business law and creditors' rights.
Bentley is admitted to practice in Illinois, Missouri and Louisiana. He is also admitted to practice before the federal courts in the Eastern District of Missouri, the Southern District of Illinois, the Central District of Illinois, and the Northern District of Illinois as well as the Seventh Circuit Court of Appeals. Bentley is a member of the Illinois State Bar Association, the American Bar Association, the Jefferson County Bar Association, the Missouri Bar Association, the Bankruptcy Association of Southern Illinois, and Mensa.