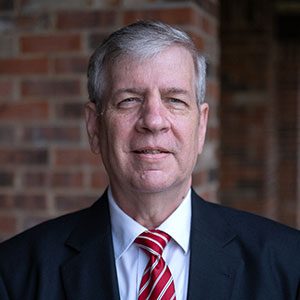 Primary areas of practice:
Bankruptcy Law
Insurance Defense
Commercial and Residential Foreclosures
Commercial Transactions 
Civil Litigation
About Lyndon
Lyndon G. Willms attended Southern Illinois University at Carbondale and earned his B.S. in Administration of Justice. He also completed the Air Force Reserve Officer Training Program and won a flight training position to become an Air Force Navigator.
After flight and combat training in California, Lyndon flew as an electronic warfare officer in B-52H aircraft. He was then assigned to fly three different versions of the RC-135 reconnaissance aircraft though the remainder of his flying career. His flying career included combat operations in Operation DESERT STORM.
Lyndon also served in various staff positions during his Air Force career to include: U.S. Pacific Command, Camp Smith, Hawaii; U.S. Strategic Command, Offutt Air Force Base, Nebraska; Headquarters, U.S. Air Force, the Pentagon; and the Joint Staff, Office of the Chairman of the Joint Chiefs of Staff, the Pentagon. Lyndon was in the Pentagon on 9/11 and served the following six months in the National Military Command Center as an executive officer for a Joint Staff Crisis Action Team. Lyndon's last military assignment was as commander of an information warfare unit at Scott Air Force Base, Illinois, supporting Air Mobility Command and U.S. Transportation Command operations.
While in the Air Force, Lyndon was awarded a master's degree in Business Organizational Management from the University of La Verne. He is also a graduate of the Air Command and Staff College, Marine Corps Command and Staff College, Armed Forces Staff College, and Air War College.
After retiring from the Air Force as a lieutenant colonel, Lyndon attended Southern Illinois University's School of Law where he earned his Juris Doctor degree. While there, Lyndon won was a member of the Phi Delta Phi fraternity and awarded two CALI Excellence for the Future Awards for the highest grade in a course.
Before joining Feirich/Mager/Green/Ryan, Lyndon practiced bankruptcy law for 13 years with the Bankruptcy Clinic, P.C. where he represented clients before the U.S. Bankruptcy Court in Chapter 7 and Chapter 13 bankruptcies. Lyndon is licensed to practice in Illinois, and in the federal courts of the Southern District of Illinois. He is also a member of the Illinois State Bar Association and the Jackson County Bar Association.